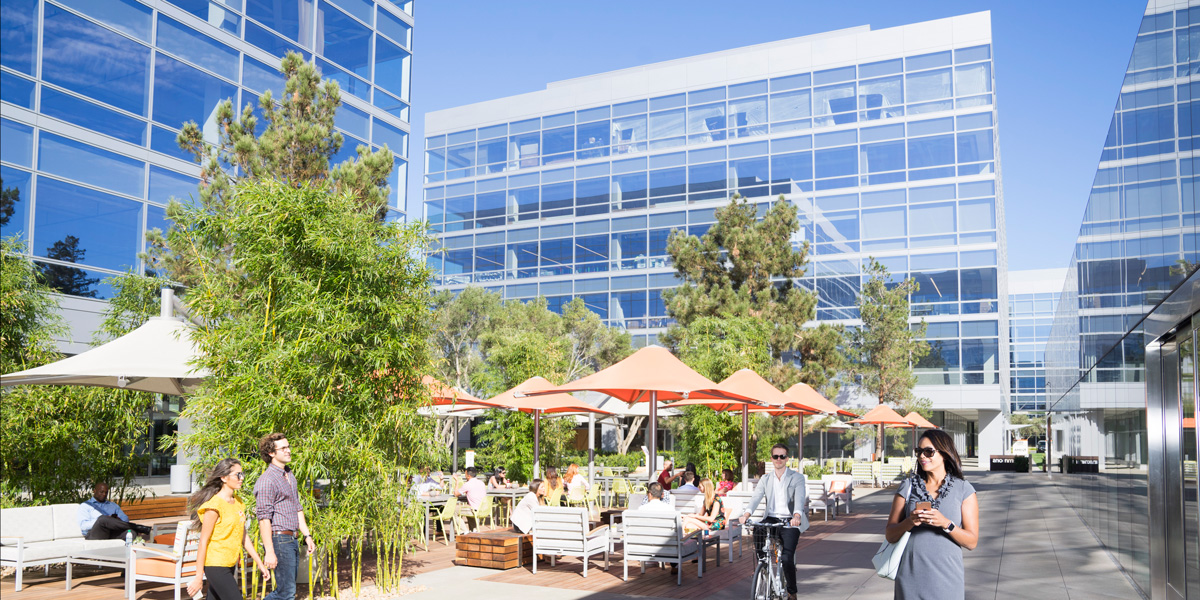 Analog Devices, Inc. leases 445,000 square feet at Irvine Company's Santa Clara Square
Leading semiconductor company signs largest office lease in Silicon Valley so far in 2018
Company leases two buildings just weeks after Hitachi Vantara leases 222,500 square feet
Project now 91% leased
SANTA CLARA, Calif. (February 6, 2018) — Irvine Company announced today that Analog Devices, Inc. (ADI), the leading global high-performance analog technology company, has signed a lease to occupy 445,000 square feet at Santa Clara Square.
The company will occupy 2555 and 2565 Augustine Drive, and its name will be displayed on the top of both buildings, offering outstanding visibility to Highway 101 commuters.
In March, ADI acquired Linear Technology. The lease enables ADI to consolidate its Milpitas and San Jose operations, bringing the teams together for enhanced collaboration, innovation and growth.
"The combination of Analog Devices and Linear Technology created an industry powerhouse. The move to Santa Clara Square will bring our two Silicon Valley operations together to enable closer collaboration and even greater innovation for our customers," said Vincent Roche, ADI president and CEO. "We also believe that our new state-of-the-art facility will give us a competitive advantage as we offer the world's top talent an opportunity to work with some of the industry's brightest minds in an incredible next-generation workplace."
The deal brings the 1.7-million-square-foot Santa Clara Square – which opened its 1.1 million square-foot second phase in September – to 91-percent leased, and comes two weeks after Hitachi Vantara announced a 222,500 square-foot lease.
ADI, which plans to move into its new facility this fall, will join well-known tech leaders AMD, Ericsson, Cambridge Industries Group and Veritas Technologies, which leased 145,000 square feet in November.
Designed by the world-renowned architectural firm Pei Cobb Freed & Partners, Santa Clara Square features sleek, modern architecture with floor-to-ceiling glass for superior natural light and efficient floor plans for maximum flexibility.
"It is thrilling to bring a leading technology company like ADI to Santa Clara Square," said Todd Hedrick, regional vice president, Irvine Company. "Santa Clara Square is the latest example of what forward-thinking companies are seeking – a vibrant workplace community with outstanding shopping and dining and luxury rental living within walking distance from their offices."
Santa Clara Square offers the entire array of Irvine Company's signature amenities and branded experiences.  Employees can meet outdoors or attend events at The Commons, an open-air gathering place featuring casual workspaces, an outdoor living room with complimentary Wi-Fi. They can grab a quick bite or espresso at one of two cafes. They can work out and visit with a nutrition counselor at KINETIC, which blends modern fitness centers and wellness services and more.
Customers also benefit from a bike share program and Irvine Company's unique on-demand transit partnership with Lyft.
Another unique attribute of Santa Clara Square: Customers can shop and dine at the 125,000-square-foot Santa Clara Square Marketplace that's anchored by a 50,000-square-foot Whole Foods. The retail center includes upscale restaurants like Fleming's Prime Steakhouse & Wine Bar, Il Fornaio and Opa!, as well as expansive spaces for farmers' markets, music festivals and community gatherings that are designed for employees from different companies to relax and build relationships that can benefit their businesses.
The pedestrian-friendly project includes 30 acres of open space and parks, including a Redwood Park Trail and links to the adjacent San Tomas Aquino Trail.
In mid-2018, Irvine Company will open an apartment community that offers 1,800 luxury homes, offering resort-style living adjacent to world-class shopping and offices.  The apartment community will feature a three-acre park, salt-water pools and in-line shops. Santa Clara Square's Main Street will also add 40,000 additional square feet of retail and services and serve as the community's town center.
For more information on Santa Clara Square, click here.
About Irvine Company Office Properties
Irvine Company has evolved the traditional office to something much more: vibrant workplace communities. A place where collaboration is encouraged and creativity is enabled to elevate business success. The company owns and manages 150 vibrant workplace communities in Orange County, Los Angeles, Silicon Valley and San Diego. It also owns world-class skyscrapers in New York and Chicago. The portfolio includes 50 million square feet serving more than 3,000 companies. Its timeless design and quality craftsmanship is consistent with its long-term view and pride of ownership.
About Analog Devices
Analog Devices (Nasdaq: ADI) is the leading global high-performance analog technology company dedicated to solving the toughest engineering challenges. We enable our customers to interpret the world around us by intelligently bridging the physical and digital with unmatched technologies that sense, measure, power, connect and interpret. Visit http://www.analog.com.
Media Contact:
Bill Rams
[email protected]
(949) 200-6107