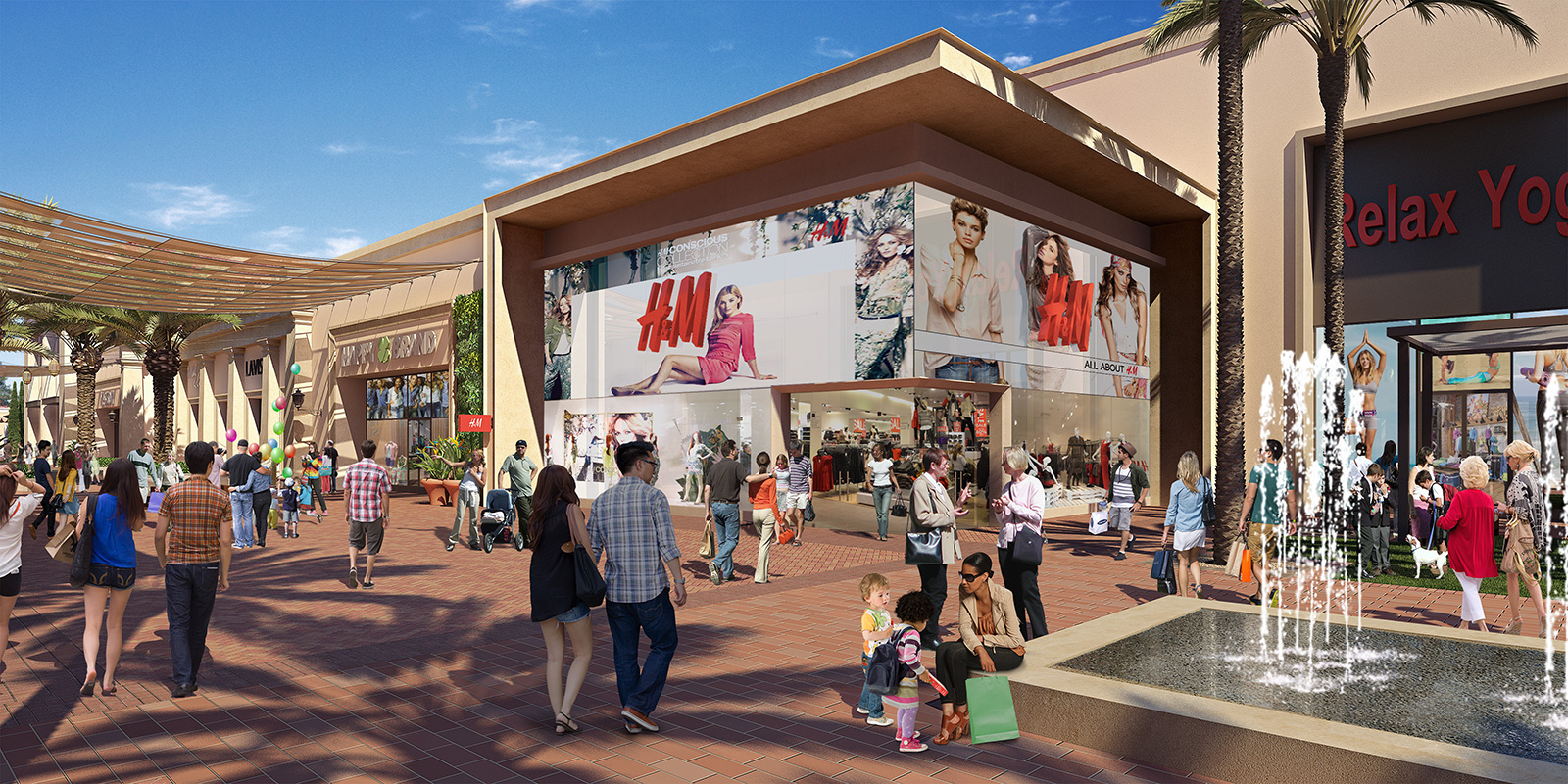 New Year, New Irvine Spectrum Center: $200M-Plus Reinvestment Set to Bring 30 New Stores and Restaurants, Design and Parking Enhancements in 2018
Irvine Spectrum Center kicks the year into high gear with openings slated throughout 2018 and 2019, from Southern California flagships like H&M and Sephora to homegrown brands including Stance socks and Afters Ice Cream
Irvine, Calif. (Jan. 12, 2018) — Irvine Company announced today more than a dozen new retailers as part of its $200-million reinvestment in Irvine Spectrum Center, infusing the Orange County lifestyle hub with brands both bigtime and boutique. The centerpiece of the reinvestment includes four new buildings on the southeastern edge of the center set to house 30 new stores and restaurants.
The announcement reveals the first wave of tenants since construction began last year on the 137,000 square-foot area located past the Giant Wheel. This summer, Hello Kitty Café will start the drum roll when it debuts a bar and café. Other tenants will continue the fanfare throughout 2018: a two-story H&M; cult-followed 85°C Bakery Café; the wildly popular OC-born Stance socks; SoCal's falafel titan Falasophy; Laguna Beach import Gorjana jewelry; the buzzworthy Irvine-based BLK Coffee; OC-crafted Afters Ice Cream, smoldering LA eye import Perverse Sunglasses, The Denim Lab; SST&C Italian menswear; Aloha-infused Soha Living; Concrete Rose shoe boutique and Robata Wasa for serious sushi. Skincare, fragrance and makeup mega-destination, Sephora is expected to make its beauty mark next year when it opens its Southern California flagship at the center.
"We've pinpointed retailers that complement our current offerings, bringing energy and individuality to Irvine Spectrum Center, including coveted Orange County brands," said Butch Knerr, president, Irvine Company Retail Properties. "Expect grand openings and big reveals throughout 2018 that reflect trends both globally and locally."
Equally important, said Knerr, is the vibrant environment, providing continuity of Irvine Spectrum Center's beloved indoor-outdoor design geared toward its live, work, play ethos. Expect rolling paseos dotted with rippling fountains, century-old olive trees and heritage pines; alfresco lounges with chic shade canopies for retail respite; and this spring, a state-of-the-art play structure will be erected near the recently revamped pop-jet fountain, further celebrating the family-centric community vibe. Meanwhile, a new parking structure will include 1,500-plus spaces and enhanced parking guidance technology later this year.
H&M is adding a two-story, 43,536-square-foot California flagship to its fast-fashionstable with clothes for women, men and kids.
Hello Kitty Café will go from pop-up to permanent with the brand's first-ever café complete with spirits. The space is 1,700 square feet.
Taiwanese import 85°CBakery Café gives rise to 100 different breads and pastries rotating throughout the day. Plus: World-famous sea salt iced coffee.
San Clemente-based Stance catapulted the everyday sock into a fashion statement with artful collaborations and cool-kid partners.
Afters Ice Cream, which started in OC, is home of Milky Bun, a decadent spin on the ice cream sandwich made with a glazed donut and whimsical toppings.
BLK Coffee elevates Vietnamese coffee to an art form. The Irvine-based brand dreams up new renditions of its potent sweet brew alongside fast-casual food.
Gorjana (pronounced gor-yana) features approachable, quality jewelry channeling the chic, breezy style of its Laguna Beach origins. Designer Gorjana Reidel plates each piece in 18K gold.
With locations throughout Hawaii, SoHa Living specializes in home décor embodying a coastal lifestyle.
The Denim Lab is equal parts store and classroom where customers shop the latest jeans while getting educated on fit and fabric.
Perverse Sunglasses is LA's starlet-approved purveyor of stylish and sexy sunnies displayed in sleek surroundings.
SST&C is the Milan-based Italian men's wear brand embracing "Simple, stylish, and trendy for casual life." It's an exacting stock of suits, shirts, ties and casual wear.
Robata Wasa is an upscale sushi restaurant from the owners of Izakaya Wasa.
Concrete Rose will step up the shoe scene with 1,529 square feet of styles.
Falasophyis a modern Lebanese street food kitchen, which started as a food truck known by disciples as the #FalafelChariot.
The host of new retailers comes on the heels of several hot openings including Habana, Havaianas, Alex & Ani and O bag. They are all in good company among the ranks of Nordstrom, Apple, Anthropologie, Urban Outfitters, Hollister, lululemon and Tillys.
About Irvine Spectrum Center
Irvine Spectrum Center is one of Southern California's most popular shopping, dining and entertainment lifestyle destinations, visited by more than 17 million people annually. The center features Nordstrom and Target, along with more than 150 stores, restaurants and entertainment venues, including the country's most successful Improv Comedy Club, as well as Southern California's most popular movie theater, the Edwards Spectrum 21 RPX & IMAX, a 5,000-plus-seat, 21-screen movie theater with VIP recliners and seat service. Recent additions include: Restaurant Habana, Kona Grill, Pressed Juicery, BRIO Tuscan Grille, Del Frisco's Grille, Umami Burger and TLT Food. For more information, please visit ShopIrvineSpectrumCenter.com.
About Irvine Company Retail Properties
Irvine Company Retail Properties' portfolio features a distinguished collection of 42 shopping centers in coastal California including two neighborhood and community centers in Northern California: Cherry Orchard Shopping Center in Sunnyvale and Santa Clara Square Marketplace in Santa Clara. In addition, we also provide shopping, dining, fitness and services in four of our apartment communities including Monticello in Santa Clara, Crescent Village in San Jose, River View Apartment Homes in San Jose, and Franklin Street in Redwood City. Irvine Company Retail Properties has recently welcomed several popular retailers to its unique collection of stores and restaurants, including Whole Foods Market, Il Fornaio, Fleming's Prime Steakhouse & Wine Bar, CorePower Yoga, Sur La Table, Pokéworks, Stanford Health Care Express Care Clinic and more. For more information, please visit ShopIrvineCompany.com.