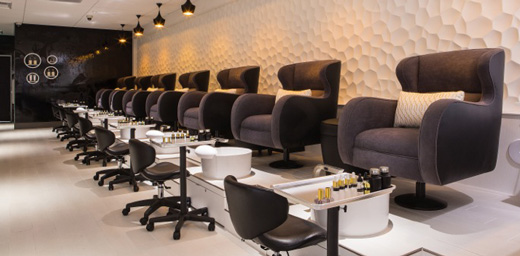 Polished Perfect by Twila True brings its elevated nail salon experience to Los Olivos Marketplace
IRVINE, Calif. (August 8, 2016) — For those who like to be pampered, we have your new post-work indulgence or weekend hangout: Polished Perfect by Twila True in Irvine's Los Olivos Marketplace. Opening today, the nail studio is like no other, offering elevated manicure and pedicure services in a stylish and elegant environment—think plush settees and sleek, gleaming spa tubs.
"Polished Perfect has really raised the bar for nail salons and nail services," said Easther Liu, chief marketing officer for Irvine Company Retail Properties. "You'll feel as if you've been whisked away to a glamorous resort or high-end spa."
Founder Twila True set out to redefine the nail salon experience by offering custom designed studios, impeccable sanitation standards and personalized customer service, along with premium nail lacquers and specialized treatments.
"Getting your nails done is a universal beauty regiment that so many men and women today embrace as part of one's personal maintenance, we wanted to not only meet those needs but exceed them with our thoughtfully designed and modernly appointed spaces and the level of attention we bring to nail services," True said. "The Los Olivos Marketplace location will be perfect for all the local executives and office employees nearby who are looking for an indulgent treat and quick, pampering escape."
As a special grand opening promotion, Polished Perfect at Los Olivos Marketplace will be offering 75-percent off all services until Labor Day. Guests are encouraged to visit www.polishedperfect.com/book to book their appointment.
.
Polished Perfect will join the center's anchor tenant, Whole Foods Market, along with other new recent arrivals such Angelina's Pizzeria Napoletana, Blue Eyed Girl, Burger Lounge, Chase Bank, Hoag Medical Group, Newport Colony, Panini Café, Rite Aid, Radiant Hot Yoga, Starbucks and Wells Fargo Bank.
Polished Perfect will be at 8597 Irvine Center Dr., Irvine, next to Newport Colony and near Chase Bank.
Hours of operation:
7 a.m. to 6 p.m. Monday to Wednesday
10 a.m. to 7 p.m. Thursday and Friday
10 a.m. to 6 p.m. Saturday
10 a.m. to 5 p.m. Sunday
About Irvine Company Retail Properties
With three distinguished shopping centers including Fashion Island, Irvine Spectrum Center and The Market Place, Irvine Company Retail Properties also includes 40 neighborhood and community centers with a diverse mix of stores and restaurants. Irvine Company Retail Properties has recently welcomed several exclusive retailers to its portfolio, including Hopdoddy Burger Bar, American Tea Room, Sushi Roku, TAPS Fish House & Brewery, Mendocino Farms, Nespresso, Urban Decay, NIKE and more. For more information, please visit ShopIrvineCompany.com.